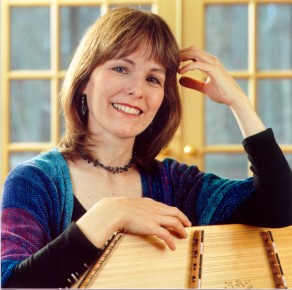 Photo by Gregory Cherin

Jody Marshall, a native of the Washington, D.C. area, grew up in a musical family. Enchanted by the sound and visual appeal of the hammered dulcimer, she developed a passion for the instrument.
She has been performing and teaching dulcimer since 1988 and was a founding member of the popular folk trios, Ironweed and MoonFire. She also performed extensively with Connemara. Her debut solo album, "Cottage in the Glen," was released by the Maggie's Music label in Spring 2005.
The Washington Post has described Jody's music as "deftly balancing the
artful and the playful...lovely, lively, and shimmering." She has been nominated
as best folk instrumentalist by the Washington Area Music Association. Her
performance credits include the Corcoran Gallery of Art, the Maryland
Renaissance Festival, the Kennedy Center, and the White House. As an instructor
of the dulcimer, she is known for her clear and easy to follow teaching style.
In addition to private lessons, she teaches frequently at festivals and workshops
from coast to coast., including the Augusta Heritage Arts workshops in Elkins,
West Virginia; the Upper Potomac Dulcimer Festival in Shepherdstown, West Virginia,
and the Northeast Dulcimer Symposium in New York's Adirondack Mountains.